Eriko Makimura presents JAPANESE CHAMBER CABARET, a concert performance with guest performer, Yoshiaki Iwao at Julius Hus in Stockholm on the 11th and 12th of November.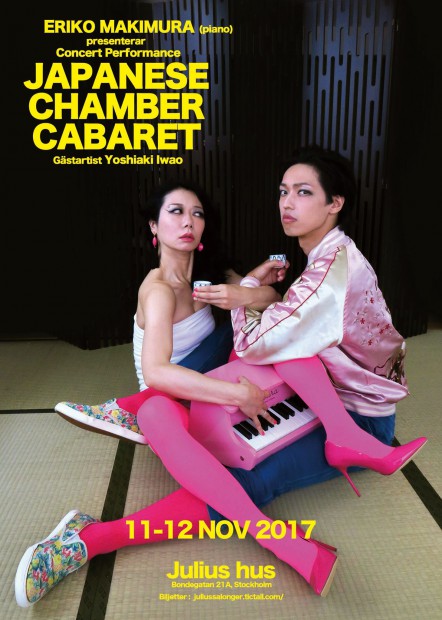 (photo and graphic: Taeko Kasama)
The award-winning, Japanese classical pianist Eriko Makimura, challenges to express the Japanese domestic contradictory phenomenon throughout a dramatic and unique experimental approach to the classic concert format. As a woman who grew up and received super strict education in Japan and has lived in Europe for more than 15 years, she observes with her third eye Japanese current social situation as an insider and outsider.
Guest performer/dancer Yoshiaki Iwao will represent the present-day man, who suffers from the disconnect of being a traditional Japanese male, and the social expectations of the 21st century.
・JAPANESE CHAMBER CABARET・
"Running a family is like a business: a manufacture industry", said a friend of mine. Education costs a lot, as Japan is still an academic background-oriented society. Kids go to cram school after public/private school and study there till midnight. A lot of after school activities are also required. Parents are extremely busy driving them all around. Hiring babysitters is not very common yet in my home country, so if women want to work, the only choice is to ask grandparents to take care of the kids.
The birth rate is dropping severely due to these conditions. Speaking of grandparents, families are supposed to take care of them at home when they get older. Japanese average life span is the longest in the world, but it doesn't mean that old people live healthily in their later years.
A statistic says that approximately 7,2 million females are wives in Japan. Statistically it shows that Japanese women's social positions are rather low in comparison to other countries and the Japanese government is encouraging women's participation in society which doesn't seem to be working so well.
Yet, despite of all the demands and social pressure, are Japanese women unhappy to be housewives? Isn't it their choice to be a housewife?
Outside of Japan insists that equality between men and women is a necessary and sufficient condition. However, in Japan, all the house-hold responsibilities, including economical part, is under control of women. Men receive little pocket money from their wives, even though most of income is supplied by men.
Very much looking forward to seeing all of you at Julius Hus in Stockholm!!!
【Venue】
Julius Hus   Bondegatan 21A, Stockhom
【Dates and Time】
11th of November (Sat.) 19:00 (doors: 18:30)
12th of November (Sun.) 15:00 (doors: 14:30)
【Tickets】