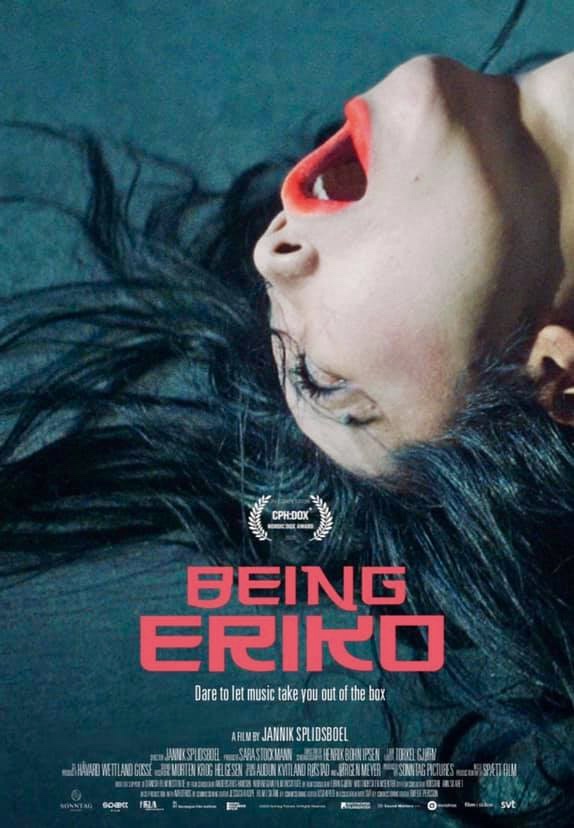 On the 27th of August, 2015, I was breaking down in tears in a restroom when a benefit concert for Syrian refugees was over (my admirable friend Denis Rivin took a great initiative).

My face was covered with salty tears, runny nose, non-waterproof mascara and dreadful theater blood after the outrageous performance which made me completely drained. Nothing could look more horrible and miserable than me.

When I went back to a backstage, a gentleman was waiting for me and introduced himself.

"Hi, my name is Jannik Splidsboel and I am a filmmaker. I would like to make a documentary about you"

While my nose kept running, I was totally weirded out and wondering what the heck this handsome (yet a bit crazy) man was talking about.

"I am Eriko and I look horrible" I answered, still weeping.

"Yes, you look horrible but I want to make a film about you" said the man repeatedly. It was too surrealistic to be true but that's exactly how our five years of drama started.

In summer 2017, the king of cinematographer Henrik Bohn Ipsen aka Mr. impossible and the sound designer Morten Krog Helgesen aka Mr. charming joined then we traveled Denmark, Germany, Poland and my motherland, Japan together.

After almost five years since my first encounter with Jannik including hysterical laughters, dances, screams, beer, countless dramas, rock'n'rolls, smørrebrød, pierogi, curry Brust, sushi, doughnuts and a lot of warmest hugs, the time is ripe. The Sonntag Pictures documentary "BEING ERIKO" will be world premiere at Copenhagen International Documentary Festival (CPH:DOX) on the 21st of March, 2020. More wowing, the documentary is nominated for Nordic Competition Award.

Me as genuine Eriko, being Eriko is most definitely NOT boring, most definitely NOT monotonous, most definitely NOT easy-peasy but sensationally colorful, adventurous, lunatically discipline, outrageous, hardcore, and full of gratefulness to life with a lot of wonderful gangster friends plus 88 keys 🎹.

Come and see the documentary "BEING ERIKO". I am probably going bananas to see myself in a big screen but hey, "dare to let music take you out of the box".

Last but not least, thank you very much for your huge supports, team the Sonntag Pictures. I sincerely love you. I mean, when I say sincerely, it means I madly love you.

The Sonntag Pictures documentary "BEING ERIKO"

① World Premiere 21.03 (Sat.) 21:30 at Grand Teatret (followed by a Q&A )

② Second Screening26.03 (Thu.) 13:30 at Cinemateket "CARL"

③ Third Screening 28.03 (Sat.) 15:30 at Cinemateket "ASTA" (followed by a Q&A and mini concert)
p.s. Due to the unexceptional pandemic situation, CPH:DOX 2020 has been set to roll out in a digital version. You can buy tickets online for a link access to watch the film at home safely.
Tickets (available from the 18th of March till the 5th of April for the audience living in Denmark):