Hereby we would like to report an accounting on the National museum's concert, "Der Rauber und Der Prinz" held on the 02.10.2011.
The proceeds from which expenses were withheld was donated to Egmont Højskolen, who supports the affected people by earthquake and tsunami, 11th of March, 2011.
The total amount: DKK 6,013
Thank you very much for your huge support.
Eriko Makimura and supportive members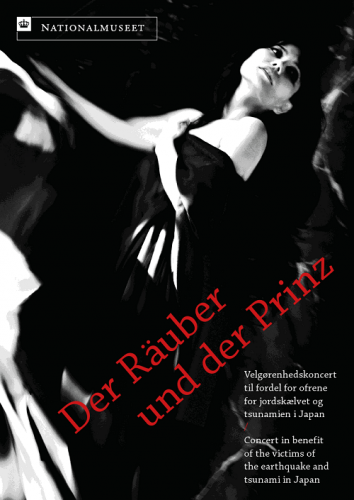 Japan Project by Egmont Højskolen (in Danish)
Den 11. marts ramte en tsunami det nordlige Japan, som senere blev mærket af et radioaktivt udslip fra atomkraftværket i Fukushima. Mange mennesker blev berørt af katastrofen og stadigt i dag er flere hundredetusind hjemløse. Egmont Højskolen har længe haft et nært og særligt forhold til Japan. Derfor var lysten til at gøre noget stor. Sammen med samarbejdspartnere i Japan er vi derfor gået i gang med et projekt, som går ud på at invitere omkring 10 personer med og uden handicap fra området til at gå på Egmont Højskolen i forårets semester. Lige nu arbejdes på at skaffe penge både i Japan og Danmark. I efteråret bliver der holdt forskellige seminarer i Japan, før vi så til januar kan modtage elever fra det nordlige Japan. I løbet af foråret håber vi at kunne give de japanske elever redskaber til aktivt at gå ind i det enorme genopbygningsarbejde, der ligger forud. Samtidig tror vi, at de danske elever ved at møde de japanske bliver en stor erfaring rigere. Vi glæder os meget til at byde gæsterne fra det nordlige Japan velkommen på Egmont Højskolen.